Tile Flooring in Cypress, TX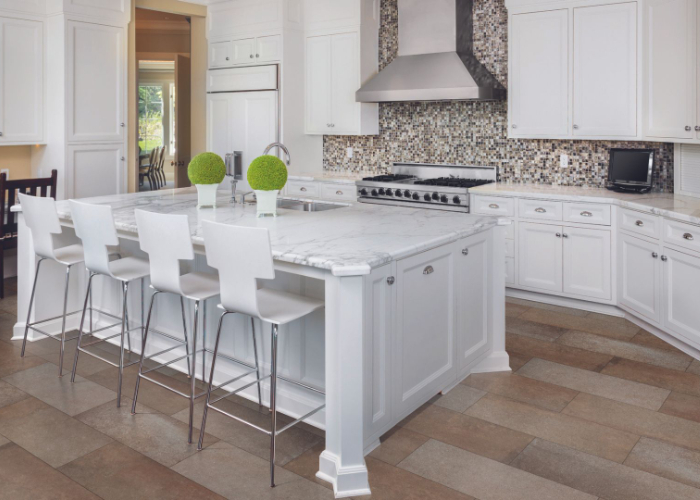 Flaherty's Flooring America is your premier destination for exquisite tile flooring in Cypress, TX! With a legacy rooted in both artistry and practicality, tile flooring has stood the test of time and remains a cost-effective way to elevate the look and feel of your property. Our expansive showroom boasts an impressive collection of porcelain, stone, and ceramic tiles, promising exceptional results for all your home improvement projects.
As you explore our durable and visually stunning tile backsplashes and multidimensional flooring options, step into a world of possibilities. Whether you're seeking a fresh, modern look or a timeless, classic appeal, our wide range of colors, textures, and styles will cater to your unique taste and complement your existing decor.
Beyond aesthetics, tile flooring offers practical advantages, particularly for those in warm climates or dealing with allergies. Experience the convenience of easy cleaning and maintenance, making it a perfect choice for busy households and business spaces alike.
Furthermore, our environmentally friendly tile floors, including slate and travertine, provide an added sense of responsibility towards nature without compromising on quality. Enjoy improved air quality, longevity, and the freedom to use these tiles indoors and outdoors, allowing you to craft seamless designs that flow effortlessly throughout your living spaces.
At Flaherty's Flooring America, we are dedicated to turning your vision into reality. Our friendly experts are ready to guide you through our stunning tile selections, ensuring you find the perfect flooring solution that not only enhances the beauty of your home but also fits your budget. Visit our showroom today and let the transformative power of tile flooring redefine your living spaces.
Why Choose Tile Flooring?
Upgrade your floors with tile flooring and enjoy numerous benefits, making it a top choice for homeowners and businesses. Here's why tile flooring might be the perfect option for your space:
Durability and Longevity: Tile floors are exceptionally durable and can last for years with proper maintenance. They resist scratches and heavy foot traffic, making them ideal for high-traffic areas like entryways and kitchens.
Wide Range of Design Options: With a vast selection of colors, patterns, shapes, and sizes, tile flooring offers unmatched design versatility. Create a personalized and unique look that complements your classic or contemporary style.
Low Maintenance and Easy to Clean: Enjoy the convenience of low maintenance with tile flooring. Unlike carpets, tiles are easy to clean and hypoallergenic. Regular sweeping and occasional mopping keep them looking pristine, and their stain-resistant surface is perfect for areas prone to spills.
Allergy-Friendly and Hygienic: Tile flooring is an excellent choice for allergy sufferers. It doesn't trap allergens like carpets do, providing a hypoallergenic surface that contributes to better indoor air quality and a healthier living environment.
Heat and Moisture Resistance: Tile flooring can withstand heat and moisture, making it suitable for areas exposed to high humidity and temperature fluctuations. Use it confidently in bathrooms, kitchens, and laundry rooms.
Types of Tile
Let's explore the different types of tiles available in our showroom, each with its distinct characteristics and benefits:
Ceramic tile is a highly popular choice for both flooring and backsplash designs. Crafted by heating and cooling kiln-fired clay, ceramic tiles are renowned for their durability and versatility. They come in many colors, patterns, and finishes, allowing you to unleash your creativity and create visually captivating spaces. With their resistance to stains, moisture, and wear, ceramic tiles are well-suited for high-traffic areas like kitchens, bathrooms, and entryways.
Porcelain tile shares similarities with ceramic tile but undergoes a more extended heating process, resulting in a denser and more resilient material. Prized for its exceptional strength and durability, porcelain tile is an excellent choice for areas that experience heavy foot traffic or are prone to moisture, such as bathrooms and commercial spaces. With advances in manufacturing techniques, porcelain tiles can authentically mimic the appearance of natural materials like stone or wood, offering an impressive range of design possibilities.
Natural stone tile is perfect for those who crave nature's timeless beauty. Our collection includes various natural stone options, such as marble, slate, and travertine. Each type of natural stone tile showcases its unique color variations, intricate veining patterns, and textures, resulting in a truly distinctive and elegant look. These tiles bring a touch of sophistication to any space.
Wood-look tile provides an ideal solution if you desire hardwood floors' warm and inviting aesthetics but require enhanced moisture resistance. Crafted using ceramic or porcelain materials, these tiles flawlessly replicate the natural appearance of wood while offering exceptional durability and water resistance. With advancements in manufacturing techniques, wood-look tiles capture various wood species' grain patterns, textures, and colors, allowing you to achieve the desired ambiance without compromising on practicality.
Transform Your Space With Custom Tile Projects
At Flaherty's Flooring America, we specialize in turning your visions into reality through custom tile projects. Whether you desire a breathtaking fireplace surround, an elegant shower design, beautiful floors, or eye-catching backsplashes, we've got you covered. Working closely with you, we understand your unique style and preferences, taking into account factors like space size and tile hardness.
We can create an illusion of space through innovative techniques such as patterns, large format tiles, and light colors, making small rooms appear bigger and more open. Moreover, we carefully select durable tiles that can withstand wear and tear, ensuring lasting style and functionality.
With our expertise and keen attention to detail, we take pride in exceeding expectations with our custom tile projects. Pay a visit to our showroom to discuss your ideas, explore design options, and witness the transformation of your space into something truly extraordinary.
Professional Tile Installation
Rely on our team for expert tile installation, ensuring the best outcome for your flooring project. Whether ceramic or porcelain tile, our thorough and meticulous services guarantee beauty and durability. We prioritize precision during installation, ensuring every tile is perfectly aligned and the grout is tightly sealed. With our Adore Your Floor Guarantee, you receive free repairs for any installation-related issues, showcasing our confidence in our work. Trust us for new floors that will stand the test of time.


Contact us today to transform the aesthetic of your home with brand-new tile flooring. We proudly serve clients in Northwest Houston, including Cypress, Jersey Village, Spring Valley Village, Cinco Ranch, and Bellaire, TX.