Tile Flooring in Cypress, TX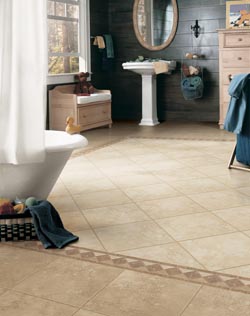 Tile flooring has been used for thousands of years by discerning builders as a way to provide both homeowners and commercial building owners with impressive flooring benefits in both durability and appearance. Luxurious tile flooring provide a significant boost to the look and feel of your property while keeping your costs down so that you remain within your budget. When it comes to upgrading the appearance of your home, you cannot go wrong with the exceptional results provided by our porcelain tile and ceramic tile flooring.
Upgrade your home with multidimensional flooring that is sturdy and visually appealing. Ceramic and porcelain tile flooring in Cypress is a great choice for replacing floors that are damaged and outdated. Revive the look of your home with tile, available in a spectrum of colors, textures, and styles.
One of the most preferred choices for home renovations, environmentally-friendly tile floors provide home and business owners with the following impressive benefits:
Easy to Clean
Improved Indoor Air Quality
Impressive Longevity
Low Maintenance
Hypoallergenic Benefits
Porcelain Tile for Your Modern Homes


Floor Tiles
Think of floor tiles in Cypress as pieces of fine art for your living space. Each piece has a different variation from the other, giving every part a distinctive charm. Once placed side by side in your home, tile has the power to breathe new life into your décor, furniture, and family heirlooms. For instance: rich caramel tiles complement milky drapes and cherry pieces while sage floor tiles accent maple furniture and floral pieces.
No matter your style, our experts are here to help you find tile that strikes your fancy. We begin by listening to your needs, considering your tastes, lifestyle, and budget, for a custom approach that suits you and your family. We want you to be satisfied with your ceramic floor tile in Cypress, which is why we take the extra steps to exceed your expectations.


Porcelain and ceramic tile in Cypress offers a number of benefits, as it resists frost, fire, slips, dents, and scratches. If you are a busy homeowner with children and pets, tile is an ideal option because it is low-maintenance is withstands heavy wear. Additionally, our porcelain and ceramic options include wood-look tile fashions.
Water can damage a number of flooring surfaces, leaving unsightly stains and even warping wood. Since tile resists water from sinks and bathtubs, consider ceramic kitchen and bathroom tile. Cypress clients who are looking for a long-term solution trust in the durability of tile for moisture-prone areas in their homes. Consider stone tile selections for an eclectic look or outdoor spaces.


Porcelain Tile for Your Modern Home
Creating a modern look and feel for your home is easy when you choose to install porcelain tile flooring. As one of the most resilient flooring types on the market, porcelain tile is able to retain its contemporary color and beauty while enduring the heaviest foot traffic in your entire home. This allows you to comfortably install this amazing flooring choice into any room you want, to create a one-of-a-kind look without worrying about wear and tear. Resistant to stains, moisture, fading, scratches, and other damage, our porcelain tile options ensure that the thoughtful flooring aesthetic you cultivated looks great for years to come.
Many people assume that if a type of flooring has a high durability it isn't going to be as attractive. That just isn't the case with this unique style of tile flooring. Just as aesthetically pleasing as it is strong, porcelain tile flooring gives you the power to create forward-thinking designs with ease. There are plenty of different colors, textures, designs, and style for you to choose from and porcelain tile is known for its strength, durability, and extremely low water absorption.


Bring Elegance to Your Home with Ceramic Tile Flooring
Are you looking for one of the most versatile tile flooring options currently available? Ceramic tile flooring is the perfect solution for property owners who are interested in giving their homes an appearance boost while still avoiding the pitfalls of water damage, staining, or lack of design options. When partnered with the correct glaze or sealant, ceramic tile is capable of becoming an ideal flooring option for kitchens, bathrooms, and every other room in-between, thanks to its natural resistance to high humidity conditions, water damage, and stains.
Ceramic tile flooring is also known as one of the toughest flooring options available, which means you can rest easy knowing you won't have to worry about cracks, chipping, or other cosmetic and structural issues. In addition, it is also frost, fire, and slip resistant. When you have a specific design idea in mind, ceramic tile flooring is capable of being customized to fit your one-of-a-kind needs. This flooring option adapts to your creative whims with ease.


Ceramic Tile Installation
Because we believe in providing full flooring services, Flaherty's Flooring America offers ceramic tile installation in Cypress. Our certified contractors maintain the expertise necessary to deliver satisfactory results with every flooring project.



To find out more about our approach to flooring tile installation, call <PHONE> or use the form to the right. Contact us when you want to transform the look and feel of your home with one of our tile floors. We proudly serve clients in Northwest Houston, including Cypress, Jersey Village, Spring Valley Village, Cinco Ranch, and Bellaire.