Luxury Vinyl Tile in Cypress, TX
One of the most versatile and dependable types of flooring available is luxury vinyl tile. Available in many different colors, patterns, and sizes, luxury vinyl floor tile is a perfect choice for kitchens, bathrooms, entryways, laundry rooms, and more. Its durability and water resistance make it perfect for high-traffic areas and its ability to hold any type of printed design means it can be used in any type of décor. Enjoy the appearance of real hardwood, natural stone floors, or interesting tiled mosaics with our stunning collections of luxury plank or luxury vinyl tile flooring options.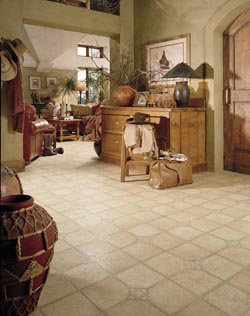 In addition, this stunning resilient flooring is the perfect choice for active households with children and pets. It is slip resistant and meets most green-building standards and requirements. Choose from a number of different sizes, colors, and patterns.
Protect Your Home with Resilient Flooring
Luxury vinyl tile is part of a group of flooring types known as resilient flooring. These types of floors stand up well to moisture, foot traffic, spills, and time. In addition to its long-lasting quality, luxury vinyl floor tile offers a multitude of style options for any room in your home. Long used only in rooms like bathrooms or kitchens, vinyl flooring is now available in styles like luxury plank flooring, mimicking the appearance and timeless beauty of hardwood floors. Use luxury vinyl flooring in any room of the house with our huge selection of styles.
Luxury Vinyl Floor Tile Offers Style and Durability
When you want the appearance of slate, granite, or ceramic floors, consider luxury vinyl floor tile. With the ability to mimic any material, vinyl flooring is an excellent alternative to natural stone, ceramic, or porcelain floors. With easier care and maintenance, luxury vinyl tile is a great choice for people who work long hours, or who just don't want to put a lot of time into maintaining their floors. Our resilient flooring is also a prime choice due to its stain resistance and easy-to-clean surface.
Luxury Plank Flooring for Timeless Beauty
Hardwood flooring offers a classical and elegant look that is also comforting and homey at the same time. With luxury plank flooring, you can have all the beauty and comfort of hardwood floors with the added benefits of easy care and higher damage resistance. Having an active household shouldn't mean you can't have the appearance of hardwood floors, because this flooring is scratch, stain, and moisture resistant. Enjoy the timeless elegance of hardwood floors in an easier-to-clean format that will add beauty and value to your home for many years to come.
Get the Job Done Right with Luxury Vinyl Tile Installation
Once you've chosen the perfect luxury vinyl floor tile for your home, let our professionals provide luxury vinyl tile installation so you know your investment will last. Whether you choose a unique mosaic of vinyl tiles or the natural appearance of luxury plank flooring, our flooring installation specialists ensure that your vinyl flooring is installed properly, maximizing the durability and longevity of your new floors.
---
Contact us today to get advice and guidance in choosing your new luxury vinyl tile or to schedule installation by our skilled professionals. We proudly serve Cypress, TX, and the surrounding areas.