Laminate Flooring in Cypress, TX
Do you admire the look of hardwood surfaces but want more affordable and easy-to-maintain flooring? Thanks to modern technology and innovation, laminate flooring beautifully mimics the aesthetics of wood, stone, and porcelain floors. When you work with Flaherty's Flooring America in Cypress, TX, you'll receive a comprehensive experience from start to finish for your flooring remodel. Beginning with an initial consultation, we can arrange custom in-home measurements, style matching, and product advice to help you find the perfect fit for your space. We provide professional laminate flooring installation services to finish the job following purchase. Visit our local laminate flooring showroom in Cypress, Texas, to get started!
Types of Laminate Flooring Available
Laminate floors are a durable flooring alternative with a diverse array of looks that can satisfy any preference without going over your project's budget. From classic to contemporary, the range of styles that laminate covers accommodates all design preferences. Flaherty's Flooring America offers our Harris County customers the best laminate flooring brands in the industry, including Mannington, Evoke, Karastan, Quick Step, and Revwood. With so many options for new floors, you are sure to find the ones that best fit your needs in looks, performance, and price. Our Cypress showroom features wood look laminate flooring:
Wood Look Laminate Flooring
Wood look laminate flooring adds affordable sophistication and charm to your home. When hardwood floors are your ideal design, but not within your budget, find a variety of ultra-realistic wood species, plank sizes, tones, and patterns. The secret behind this impressive flooring is a hi-resolution image placed underneath a durable tread layer. At its core, dual layers of long-lasting materials give laminate that touch of softness that makes it more comfortable to stand on over long periods of time.
What's The Difference Between Laminate and Luxury Vinyl Floors?
Laminate and luxury vinyl floors both deliver modern flooring solutions with exceptional durability and design. Composed of four purposeful layers, each has beautiful wood or tile looks that match any interior with improved performance. The difference lies in the materials. Laminate's sturdy core is a high-density fiberboard, while luxury vinyl's core is a completely waterproof vinyl material. Most laminate is water resistant while luxury vinyl offers 100% waterproof flooring solutions. Laminate also tends to be less expensive. Both are excellent choices for a home upgrade!
Design Expertise for Easy Laminate Flooring Selections
Have an interior design idea? Our highly trained associates will help you make it a reality. When you are revamping your rooms with new furniture and décor and looking for laminate floors to complement your existing theme, we offer valuable advice and professional recommendations to help you find exactly what you seek. From brainstorming to narrowing down the flooring options, we are here to assist you every step of the way for a customer service experience you won't find anywhere else!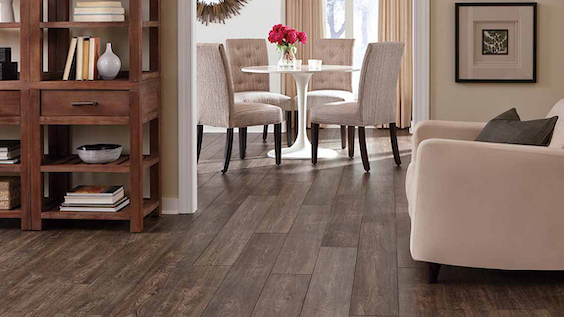 The Many Advantages of Laminate Flooring
Our experts have the knowledge and expertise to answer any of your questions about laminate flooring and will help you decide what works best for your home. We provide laminate floor tiles that are as beautiful as they are functional. Additionally, our experts know how to install laminate tiles quickly, so you'll be enjoying your home's upgrade in no time. Learn more about all the benefits of laminate floors:
Simple Cleaning, Care, and Maintenance
If you appreciate the simplicity of a low-maintenance household, laminate tile flooring is the ideal selection for you. Spills and accidents are no problem for laminate. Laminate stands up remarkably well over time, requiring no more than the occasional sweeping and mopping to preserve its like-new appearance. Use Laminate in your home's high-traffic areas for easily maintained looks that are guaranteed to last.
Long-Lasting Durability
Resistant to stains, cracks, dents, and fading, laminate can withstand heavy foot traffic for years. Its protective seal and resilient core bring pet proof and kid proof living. Active households love how stress-free laminate flooring is over the entirety of its lifespan. Choose from a variety of hues and patterns to match your particular style and theme. Our laminate wood floors are sure to elevate your living space with a refreshing new look and exceptionally durable performance.
Affordable Style for Any Interior Decor
The affordability of laminate flooring means that whatever style or color suits your decorative motif will be budget-friendly. Our laminate is a perennial favorite among customers who love the luxurious looks that come at surprisingly low prices. Let your imagination run wild with the many possibilities laminate provides.
Laminate Flooring Installation with Our Local Contractors
Save time and resources by opting for laminate flooring installation from our local flooring store. Our professional installers are knowledgeable, experienced, and courteous, delivering excellent results with each project. Trust us for your laminate floor installation, and you can be confident that it's performed efficiently and done right the first time. You can rest easy knowing that each of our products is backed by some of the best warranties in the industry, including our Adore Your Floor Guarantee. Should you be dissatisfied with your laminate installation, give us a call within 30 days and we will make it right at our own expense.
Contact us to get started on your laminate flooring project! We proudly serve our customers in Cypress, Jersey Village, Spring Valley Village, Cinco Ranch, Bellaire, Texas, and the surrounding Harris County communities.