Finding The Right Hardwood to Match Your Lifestyle
Hardwood flooring can elevate any room in your house, but how does it hold up to the test of time? Luckily, with our durable hardwood flooring brands here at Flaherty's Flooring America in Cypress, Texas, you get the best of both worlds with a stunning new hardwood floor that is both long-lasting and stylish. Shop our collection of contemporary hardwood floors today to find the perfect floor for your active household.
Proudly serving clients in Cypress, TX, and the surrounding Harris County area, our expansive showroom houses limitless styles ranging from barnyard chic to contemporary wide-planks that are sure to suit your interior design taste.
We offer great deals on exclusive hardwood brands, including Karastan, Anderson, Baroque, and Shaw among other brands. Our flooring experts are eager to help you with your home renovation journey and guide you every step of the way from selection to installation.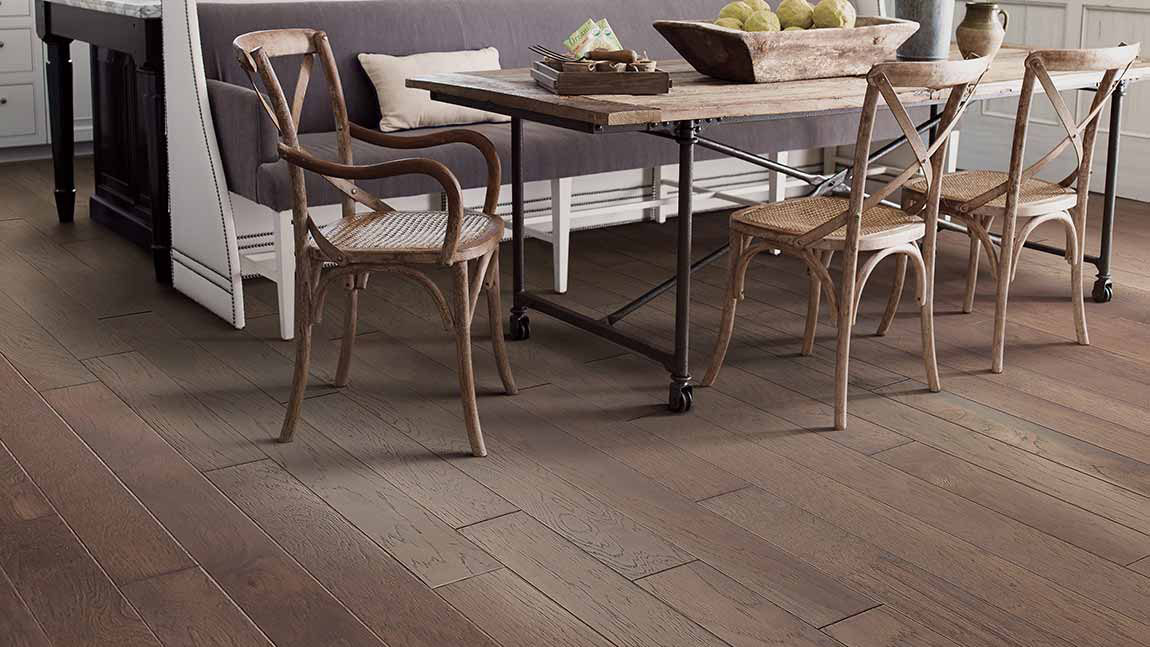 Solid Versus Engineered Hardwood
Today, there are two main categories of hardwood: solid hardwood and engineered hardwood. While solid hardwood is composed of solid wood throughout the entire plank, engineered hardwood is technologically advanced with cross-cut wood planks to create a stronger, more durable floor. Although engineered hardwood typically costs more, its benefits outweigh the extra cost as it features more stability and less expansion and contraction than traditional hardwood.
Hardwood Flooring Maintenance
Hardwood floors not only look great in any room of the home, but they have several benefits that make them a popular choice for homeowners. Advantages of hardwood include low maintenance, beautiful lifelong floors, and durability.
Cleaning hardwood floors only involves frequent vacuuming and sweeping. You will want to wipe up your floors immediately as some liquids can stain your hardwood in the case of spills. Consult your hardwood flooring warranties before using any harsh cleaning products on your floors to ensure that you are protecting your hardwood floor's lifespan.
Hardwood Flooring Installation
To find the styles you like and the brand names you know and love, make Flaherty's Flooring America in Cypress, TX, the first stop on your design search.
Your finished home design goals are a top priority for us, and our experienced installation contractors are ready to take the project past the finish line with detailed craftsmanship that stands the test of time. When you shop our beautiful hardwood flooring products, you can use our Five Star Selection System to find the correct combination of installation guarantees and price protection guarantees to match your budget.
With the right resources and equipment, our team of expert installers is trained, so you don't have to worry about substandard installation work. We are dedicated to installing beautiful hardwood floors that complement the design of your home, and please you. We are there to ensure that your hardwood choice generates a lovely new floor to suit your lifestyle.
Contact us today to find the perfect hardwood flooring for your home! We proudly serve Cypress, TX, and the surrounding areas.