Hardwood Flooring in Cypress, TX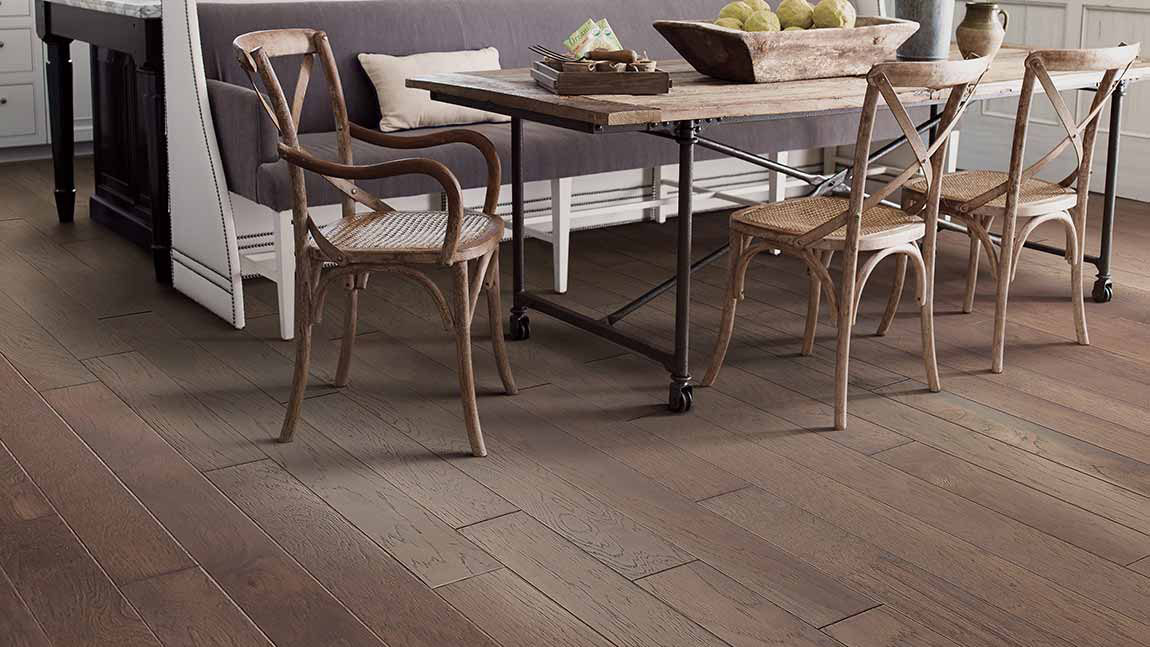 Elevate your Cypress, TX home with our durable hardwood flooring. Flaherty's Flooring America offers stunning, long-lasting hardwood floors. Explore contemporary options, perfect for active households. Our Cypress showroom showcases diverse styles, from rustic to modern, catering to various interior design preferences.
We provide exclusive deals on renowned brands like Karastan, Provenza, Mohawk, and Shaw. Count on our flooring experts for guidance from selection to installation, making your home renovation journey seamless. Discover timeless hardwood flooring in Cypress, Texas, where style meets durability.
Engineered Hardwood: The Smart Choice for Cypress Homeowners
Engineered hardwood is a popular flooring option that combines the beauty of solid hardwood with practical advantages. Here's why it's a fantastic choice for homeowners in Cypress:
What is Engineered Hardwood?
Engineered hardwood consists of multiple layers. The top layer is real hardwood, providing an authentic, luxurious appearance.
Underneath the hardwood veneer, there are layers of high-quality plywood or fiberboard. These layers add strength and stability to the flooring.
Benefits of Engineered Hardwood:
Durability: Engineered hardwood is more resistant to moisture and temperature fluctuations than solid wood, making it ideal for Cypress's humid climate.
Versatility: It can be installed in various ways, including floating, glue-down, or nail-down methods, allowing flexibility in your flooring choices.
Cost-Effective: Engineered hardwood is often more affordable than solid hardwood while delivering the same elegant look and feel.
Easy Maintenance: Cleaning is a breeze, as it's less prone to warping or twisting.
Environmentally Friendly: Engineered hardwood uses less natural wood, making it a sustainable option.
Why Choose Engineered Hardwood in Cypress?
Cypress's humid climate can be tough on traditional hardwood, but engineered hardwood is designed to withstand these conditions without warping or cupping.
Its versatility means it can be easily installed over various subfloor types, saving time and reducing installation costs.
The cost-effectiveness of engineered hardwood allows you to achieve a high-end look without breaking the bank.
Caring for Hardwood in Humid Environments
In humid spaces like Cypress, caring for engineered hardwood requires special attention to maintain its beauty and structural integrity:
Humidity Control: Maintain indoor humidity levels between 35% to 55% to prevent excessive expansion or contraction of the wood. Use humidifiers or dehumidifiers to regulate humidity levels as needed.
Preventative Measures: Regularly clean the floors using a slightly damp mop to remove dirt and moisture, avoiding excessive water. Immediately wipe up spills to prevent the wood from absorbing moisture, which could lead to warping or damage.
Protective Coatings: Apply a quality sealant or finish to create a protective layer on the wood, reducing its vulnerability to humidity. Ask our flooring experts about which product will be best.
Area Rugs and Mats: Place rugs or mats in high-traffic areas or near entryways to minimize tracked-in moisture and reduce wear on the hardwood.
Professional Inspection: Periodically have professionals inspect the flooring to detect early signs of issues like cupping, gaps, or warping.
By controlling humidity levels, implementing preventive measures, applying protective coatings, and regularly maintaining the flooring, homeowners in Cypress can preserve the beauty and durability of engineered hardwood in humid environments.
Hardwood Flooring Installation Made Easy
When it comes to your home design, Flaherty's Flooring America in Cypress, TX is your ideal starting point. We offer many styles and beloved brand names to suit your tastes.
Craftsmanship That Lasts:
Your design goals are our top priority, and our experienced installation contractors are here to deliver enduring craftsmanship.
Shop our stunning hardwood flooring products, and utilize our Five Star Selection System to find installation guarantees and price protection that fit your budget.
Professional Hardwood Installation:
Our expert installers are well-trained and equipped with the right resources to ensure a high-quality installation.
We're committed to enhancing your home's design with beautiful hardwood floors that cater to your lifestyle.
Ultimate Confidence Guarantee:
We have complete faith in our installation services and offer an Ultimate Confidence Guarantee.
If you're not satisfied with your installation within 30 days, we promise to replace your flooring with a similar product at no extra cost.
At Flaherty's Flooring America, we're dedicated to making your hardwood flooring installation a seamless and satisfying experience. Your satisfaction is our ultimate guarantee.
Frequently Asked Questions About Engineered Hardwood
Q: What is engineered hardwood?
A: Engineered hardwood is a flooring option constructed with multiple layers. It features a real hardwood veneer on top, providing an authentic look, with layers of plywood or fiberboard underneath for stability.
Q: How does engineered hardwood differ from solid hardwood?
A: Unlike solid hardwood, engineered hardwood is more resistant to moisture and temperature fluctuations, making it suitable for environments with varying conditions.
Q: Can I install engineered hardwood in high-humidity areas like Cypress, TX?
A: Yes, engineered hardwood is a great choice for humid climates like Cypress. Its layered construction helps it resist moisture-related issues and maintain its appearance.
Q: How do I choose the right engineered hardwood for my home?
A: Consider factors like style, color, thickness of the top veneer, and the specific requirements of your space. Consult with a flooring professional to make an informed decision.
Contact us today to find the perfect hardwood flooring for your home! We proudly serve Cypress, TX, and the surrounding areas.