Hardwood Flooring in Cypress, TX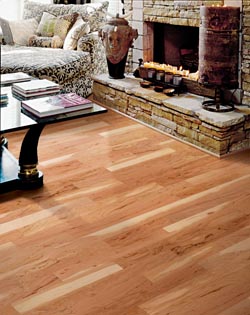 Invest in your home's value and beauty by installing hardwood floors. At our store, we make it easy to select, buy, and install the perfect wood floor for your home. We offer one of the largest selections of name-brand hardwood flooring in Cypress, TX. With so many options available in our showroom, you are certain to find the right product to complement your décor and furniture. If you need any assistance choosing the ideal floor, our staff members will be happy to consult with you and recommend suitable options for your design goals and price range.
When you want a truly distinctive and luxurious surface, opt for hardwood floors. Cypress residents, as well as homeowners throughout the nation, appreciate the unrivaled elegance of wood grains, stains, and finishes in their household. Boost your home's property value and make it stand out by upgrading to hardwood. At our store, we offer both engineered and solid hardwood flooring products to better serve your renovation needs.
Save Money by Installing Engineered Hardwood Flooring
Get more value for your dollar with engineered hardwood flooring. Although engineered planks offer the same gorgeous visual appeal as natural wood, they are often more eco-friendly. They are also typically highly budget-friendly, leaving you with more money in your wallet at the end of your renovation project. In addition, engineered hardwood flooring provides enhanced durability and moisture resistance.
Engineered wood floor planks are composed of multiple layers, including natural wood and resin. The layers are sealed together under extreme heat and pressure to create incredibly strong, long-lasting flooring. Due to their careful construction, engineered planks do not expand and contract under humid conditions, making them perfect for hot, wet areas that may cause other types of flooring to warp. Visit our showroom for more information on the benefits of engineered hardwood flooring.
Build a Firm Foundation with Solid Hardwood Flooring
Nothing compares to the genuine character of solid wood floors. Solid hardwood flooring is renowned for its timeless visual appeal and longevity. Each plank is natural wood from top to bottom. Since solid planks are thicker than other wood floor options, they can be refinished many more times. Refinish your solid hardwood floor to try out a new color via re-staining or to refresh its appearance after years of wear-and-tear. The ability to refinish the floor over and over makes solid hardwood flooring a smart investment for any homeowner.
Solid wood floors—as well as engineered wood floors—come in a wide array of species, finishes, and stains. No matter what kind of aesthetic you want in your home, our showroom has a product for you. For formal spaces, consider cherry wood with a high-gloss finish. This will give your home smooth flooring that exudes class and sophistication. For a more rugged look that mimics the spirit of the outdoors, choose hand-scraped wood with high variation. Countless other hardwood flooring options are available and our staff members are happy to guide you through them all. Whatever your styles—modern, traditional, bold, or subdued—the possibilities are virtually endless at our store.
Hardwood Floors Add Value and Character to Your Home
Your home is both your sanctuary and one of your biggest investments. Whether you want to make your home more beautiful and valuable for potential buyers or for your own appreciation, hardwood floors are a perfect renovation choice. Not only do they look breath-taking, but also they increase your property value significantly.
We understand that choosing the right floor to purchase can be daunting. That is why our highly trained and knowledgeable associates are always standing by to help you. Their mission is to help you find the hardwood flooring product that meets both your design dreams and pricing goals. We want you to feel confident about your decision, so feel free to ask as many questions as you want. Our team will do everything necessary to make your experience enjoyable.
Reliable Hardwood Floor Installation at a Fair Price
For picture-perfect flooring, you need professional installation. At our store, we offer hardwood floor installation by certified contractors at affordable rates. Installation doesn't have to cost an arm and a leg when you work with us—our installation rates are the best in town. By utilizing our contractors, you save money and do not have to waste your time and energy searching for a qualified installer.
Our hardwood floor installation contractors have years of experience and have the right training to work with all the flooring materials we sell. They always take the time to properly install your new wood floors for beautiful results that last decades. Furthermore, our entire company pledges to provide you with a level of personalized service that is matched by any home improvement center or other flooring store—and to do everything in our power to earn your trust, business, and recommendation to your friends.

Contact our floor showroom for more details on our hardwood flooring products and services. We proudly serve clients throughout the northwest Houston area, including those in Cypress, Jersey Village, Spring Valley Village, Cinco Ranch, and Bellaire, Texas.