Stylish and Durable Ceramic Tile in Cypress, TX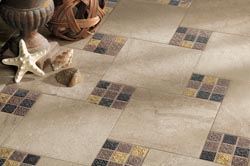 Changing flooring is an effective way to update and renew the appearance of any home or office. A simple replacement of the existing floor covering can breathe new life into a room and act as a design focal point for the entire property. Maybe you feel that carpet or hardwood is the choice for you or perhaps you prefer another material like ceramic tile in Cypress, TX.
The team at Flaherty's Flooring America is ready to help you make that choice by providing all the information and assistance you need. Our employees learn about the area you wish to select flooring for and your design tastes. Then they take that knowledge and help you select the product you need. Our certified contractors will help with installation too.
A Choice that Lasts
When you decide upon ceramic kitchen tile, for example, you will quickly realize that it's a choice that lasts. That's one of the major benefits of tile; it is very durable, which makes it an ideal option for high-traffic areas.
Not only is it very durable, but it's also low maintenance as well. Pretty much all that is required from a cleaning standpoint is the occasional quick mopping to keep it looking its best. Since tile is a hard surface, it doesn't trap dirt and dust, and that means it's a hypoallergenic option for individuals who have allergies. When treated with the proper glaze or sealant, these tiles give your floor a natural resistance to humidity, stains, and water damage.
A Style to Suit Your Tastes
If you're looking for ceramic bathroom tile, for example, and wonder if you can find a type that will look good and tie in with your existing color scheme and design choices, don't worry. We have a large inventory that boasts a variety of colors, styles, and textures. You will get the tile you want by choosing among options which include:
Glazed or Unglazed Finishes
Contemporary, Deco, or Rustic Styles
Those styles can be broken down into variants that each have their own unique look and flair. At our location, you are going to be able to select from such patterns and themes as:
Adriatic
Sandalo
Brancacci
Salerno
Cortona
A Truly Good Choice
Not only is ceramic floor tile a good choice for your home or office, but it's also a good choice for the environment as well. The materials that are used to make this tile -- clay is the main ingredient -- are readily available and abundant, so it's an eco-friendly choice.
---
Contact us to learn more about your ceramic tile options. We proudly serve customers in Cypress, TX, and the surrounding area.