Ceramic Tile in Cypress, TX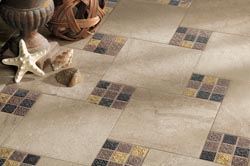 Enhance your home with beautiful new tile flooring in Cypress, TX. When you select superior ceramic tile flooring from our locally owned and operated store, you will be furnishing your home with visually appealing flooring that has the durability to stand the test of time. Whether you want to replace damaged or outdated floors or simply redecorate your home, our affordable and stylish ceramic tile is an excellent choice for your renovation project. Increase your home's overall value with the help of our tile floor options.
If you are looking to increase your home's value and impress houseguests, look no further than our wide selection of tiles. Whether you are looking for slate, terra cotta, porcelain, or anything else in between, we have what you need. Let us help you get the home you have always dreamed of having.
Tile flooring is also super low-maintenance. Most of the time a quick mopping is all you need to keep it looking its best week after week. Not only is it easy to clean, it's also extremely hypoallergenic. Dust, particles, and other pollutants have no place to hide, and are easily wiped up with a dry or wet mop.
The Benefits of Ceramic Tile Flooring
Elegant ceramic floor tiles have been utilized in living spaces for hundreds of years. This flooring provides a luxurious enhancement to your home while keeping your costs down so you can enjoy your gorgeous new ceramic floors without worrying about spending too much money. Ceramic floor tiles are multidimensional and distinctive, and available in a wide variety of colors, styles, and textures. Various options include:
Glazed or unglazed finishes
Contemporary, deco, or rustic styles
Porcelain, slate, or terra cotta
You can also choose from a wide array of shades and textures to create a vibrant display with your ceramic floor tiles. At our showroom you are bound to find the perfect tile for your home. There are many benefits that come with choosing ceramic tile flooring for your home. This elegant option will bring a fresh look to your bathroom, kitchen, hallway, or living room while requiring less maintenance and upkeep than other flooring options. Our ceramic tiles are resistant to dents, fire, frost, scratches, and water. The high durability of our tile is one of the main reasons that home and business owners alike love this flooring. It is able to take the heavy abuse of daily life and come out looking spectacular year after year.
Upgrade Your Property with a Tile Floor Made of Ceramic
When you implement a tile floor made of ceramic, you are choosing flooring that is both aesthetically pleasing and durable. Ceramic tile is versatile and cost-effective so you can boost your home's appearance without breaking the bank. A tile floor made of ceramic is a wise investment for your living space. When combined with the proper glaze or sealant, ceramic tiles equip your floor with a natural resistance to humidity, stains, and water damage. Their eclectic designs and easy maintenance make ceramic tiles the perfect choice for a beautiful and long-lasting home floor. Rugged and durable, a tile floor made of ceramic stands strong against chipping, cracking, and other cosmetic or structural issues. Our tiles are available in a number of different colors and a dazzling array of styles such as:
Adriatic
Sandalo
Brancacci
Salerno
Cortona
Best of all, ceramic tile flooring is an environmentally friendly choice for homeowners looking to protect the environment. The natural materials used to make ceramic are readily available and abundant, making this flooring a very eco-friendly choice.
Porcelain tile is a great choice for any room that has to deal with an abundance of water. Using denser clay and higher temperatures, porcelain is the most waterproof type of tile available on the market. While all tile is waterproof for the most part, porcelain is the go to solution for bathrooms because of its extremely dense nature. Visit our showroom today and look at our wide selection of porcelain flooring. For customers looking for something a bit more natural in design, you can never go wrong with slate tile. This natural stone has been used in flooring, walls, and even rooftops for hundreds of years, and for good reason. Slate is naturally very durable, and has a unique beauty that is just its own. There is no mistaking a slate floor or wall for anything else.
Guiding You from Selection to Installation
Whether you have a specific vision in mind or need some assistance with establishing a design, you can trust our experienced team of professionals at our local store to assist you with choosing the right tile at the right price. We also provide distinct labels and Quick-Pick icons so that you can easily discern performance in a variety of applications and conditions such as indoor, outdoor, commercial, residential, frost-proof, and variations of shade and texture. Once you have made your selection, our certified contractors are happy to help with efficient and professional tile floor installation so you can quickly enjoy your new tile floors. Our industry professionals have the skills, knowledge, and resources to get the job done right the first time. No tile flooring installation is too much for our contractors to handle. If you are ready to have the home of your dreams, we are here to help you make it a reality.
---
Call our local floor store today at (877) 523-6281 to learn more about our beautiful ceramic tile. We proudly serve the community of Northwest Houston, including Cypress, Jersey Village, Spring Valley Village, Cinco Ranch, and Bellaire, TX.