Carpet in Cypress, TX

At Flaherty's Flooring America, find the perfect carpet for your home. Our Cypress, TX, showroom offers a wide variety of top-quality carpet types, designs, and colors to suit any project. Our flooring experts will guide you through your choices, ensuring your design dreams and functionality are top priorities. Our stocked showroom houses everything from high plush piles and shags to innovative waterproof carpets, making it easy to find the ideal carpet to suit your family's needs. Visit us for the best carpet and flooring installation in the Houston area.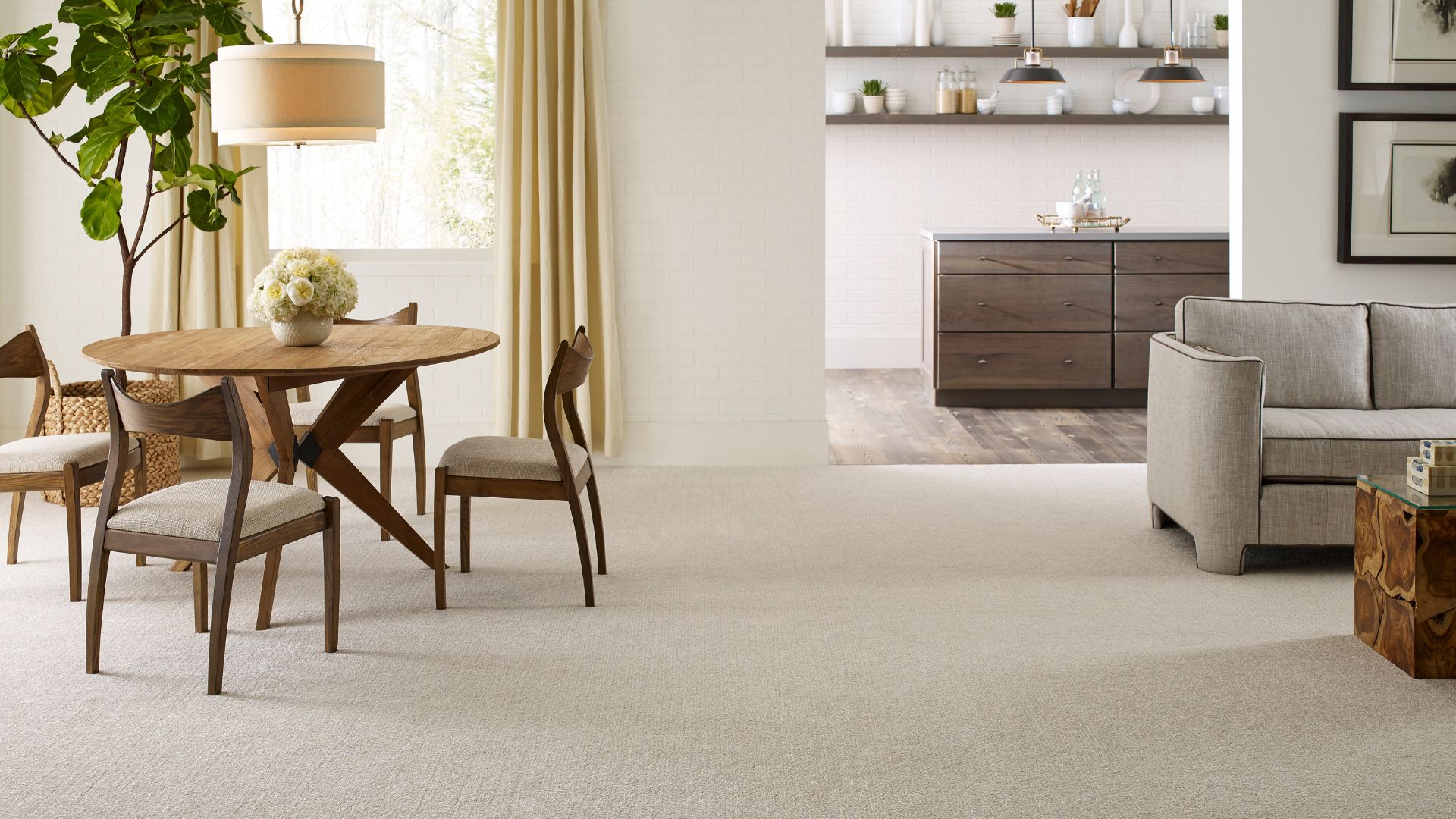 Benefits of Carpet

Experience the benefits of our top-quality carpets for homeowners and businesses. We offer a wide selection of leading brands like Karastan, Core Elements, Innovia, and more. Find trendy gray tonal carpets or durable nylon options to suit your unique preferences. Explore why our carpets are the perfect choice for your home.
Durability and Longevity: When considering new carpets for your home, functionality is a key factor homeowners prioritize when choosing their new floors. High-quality carpets are extremely durable and can withstand regular wear and tear when properly maintained. Plus, most carpets are treated to resist stains and soil, making them easy to clean and maintain.
Affordability: Compared to other flooring options like hardwood or tile, carpet is generally more budget-friendly, making it a cost-effective choice for many homeowners.
Versatility: With a wide variety of colors, patterns, and textures available, carpets offer endless design possibilities, allowing you to personalize your space to suit your style and preferences.
Kid and Pet-friendly: The cushioned surface of the carpet reduces the risk of slips and falls, making it a safer option for families with young children and pets. Carpet provides a soft and comfortable surface to walk, sit, and play on, making it ideal for areas where you want to create a cozy and inviting atmosphere. Additionally, when the carpet is manufactured for high performance, it can be stain-resistant and water-resistant.
Types of Carpet
When beginning the search for new carpets, you will soon know how many different types there are. If you're unsure which one is right for your home or business, we're here to help.
Loop and Cut-Loop Carpet: Standard cut pile carpet features evenly cut yarn loops, creating a plush, soft surface. The ends of the fibers are exposed, resulting in a velvety appearance. It has a smooth and uniform texture with a soft feel underfoot, making it popular for bedrooms, living rooms, and other areas where comfort is a priority. Due to its denser surface, the cut pile carpet is more prone to showing footprints and vacuum marks. However, it offers a luxurious and inviting look that is easy to clean and maintain.
Berber Carpet: Berber carpet is made with looped fibers that create a distinctive, textured surface. The loops can be either level loops or multi-level loops, giving a range of visual effects. Berber carpets have a more casual and natural appearance, with a unique pattern created by the loops. The loops in Berber carpet offer superior durability, making it resistant to wear and ideal for high-traffic areas. However, removing stains from Berber carpet may be more challenging due to the looped construction.
Patterned Carpet: Patterned carpet features a combination of cut and looped yarns to create various patterns, designs, and textures on the surface. The unique patterns add visual interest and dimension to the carpet, making it a stylish choice for adding character to any room. Patterned carpet is more forgiving in showing footprints and vacuum marks compared to standard cut piles. It also provides excellent durability, making it suitable for high-traffic areas.
Saxony Carpet: Saxony carpet consists of a cut-pile construction, making it optimal for everyday wear and tear. Its resistance to traffic marks, shading, and wear allows you to maintain a look of luxury without needing to replace your carpet.
Frieze Carpet: Frieze carpet is a popular type of carpet known for its unique appearance and texture. It is a cut pile carpet with long, twisted fibers that create a textured and slightly curled surface. The twisted fibers give it a "shaggy" or "curly" look, which hides footprints and vacuum marks well, making it a practical choice for high-traffic areas.
Choosing the Right Carpet
When selecting the best carpet for your home, consider key factors such as lifestyle, foot traffic, and area usage. For high-traffic zones like hallways and living rooms, go for durable Berber carpets. For an added layer of comfortability, soft-cut pile carpets are a great addition to any bedroom. Choose from Berber, loop, or cut-loop materials for durability. For easy maintenance, we have a great selection of stain-resistant carpets. Find the perfect carpet that blends function, comfort, and style seamlessly into your living space at our store near you.
Professional Installation
With years of experience, our trained installation professionals handle all the hard work, ensuring your new carpet is installed correctly. Backed by industry-leading warranties, including our Adore Your Floors Guarantee, we promise flawless carpet flooring installation. Trust the professionals for lasting beauty and peace of mind. We work efficiently to deliver timely results so that you can enjoy your stunning new carpet without delay. When you hire us for your carpet installation, rest assured that we will get the job done right, enhancing your new carpet's appearance and longevity. Plus, our installation services are crucial for honoring many carpet warranties, as most require professional installation for proper coverage. If, for any reason, you're not satisfied with your new carpet flooring installation, call us within 30 days of installation, and we'll happily replace it with a similar product at no additional cost. Choose us for your carpet installation needs and experience the difference expertise makes! Call us today to schedule your installation, or visit our store for a selection of top-quality carpets.
Contact us to learn about our carpet selection and services. We proudly serve customers in Cypress, Katy, Spring, Tomball, Jersey Village, and all additional Houston area communities.